On June 6, Margaret May McBurney and Alexander Joseph Koes tied the knot at Sundara, Western Virginia's most sought after wedding venue. A rustic wooden sign welcomed 250 guests to May & Alex's southern garden style wedding beautifully accented with blush, ivory and gold.
Everything about the McBurney wedding was personalized, elegant and ornate. We customized their wedding menu and coordinated with vendors to feature classy, rustic dishes that perfectly matched their wedding atmosphere.
A Warm Welcome to the Southern Garden Wedding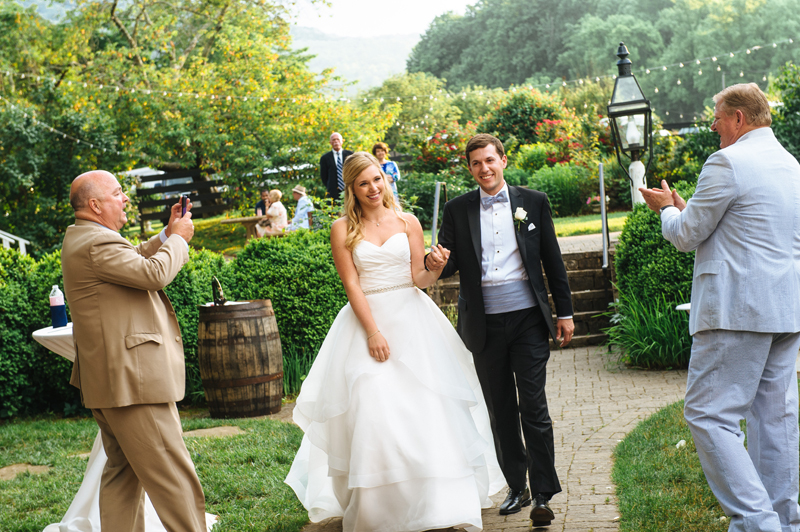 May and Alex arrived in an antique car and walked past a red barn and a long swing, two of our favorite outdoor features. Guests and the couple of honor soaked in the relaxing atmosphere full of love and beauty!
Drinks Filled with Virginia Pride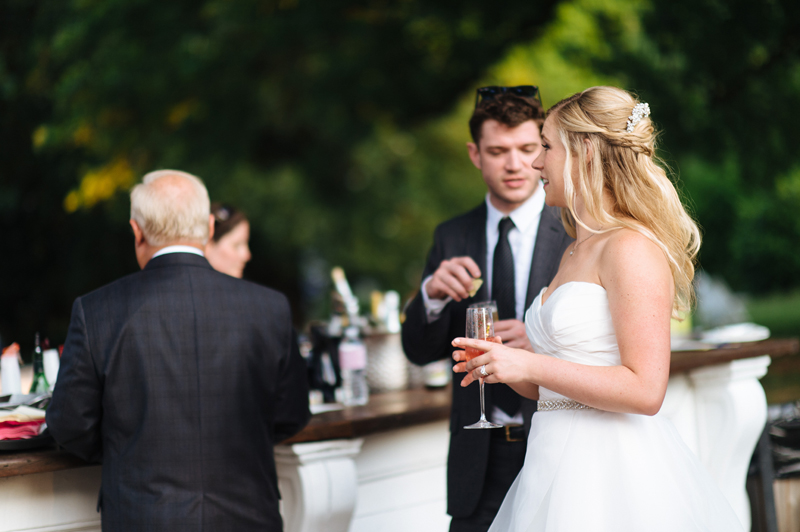 The wedding bar featured a prominent University of Virginia flag hanging above the custom Prosecco station. Guests could chose from three purees and fruit/berry garnishes to craft beautiful and flavorful signature wedding drinks.
Small Tastes to Start
As guests mingled and shared memories, they enjoyed a selection of our favorite passed hors d'oeuvres:
Caprese Skewers: fresh mozzarella, basil and grape tomatoes lightly seasoned with salt, pepper and olive oil
Bacon-Wrapped Dates: stuffed with gorgonzola and drizzled with honey
Petite Cajun Crab Cakes: served with a lovely remoulade
Garden Party Dinner Stations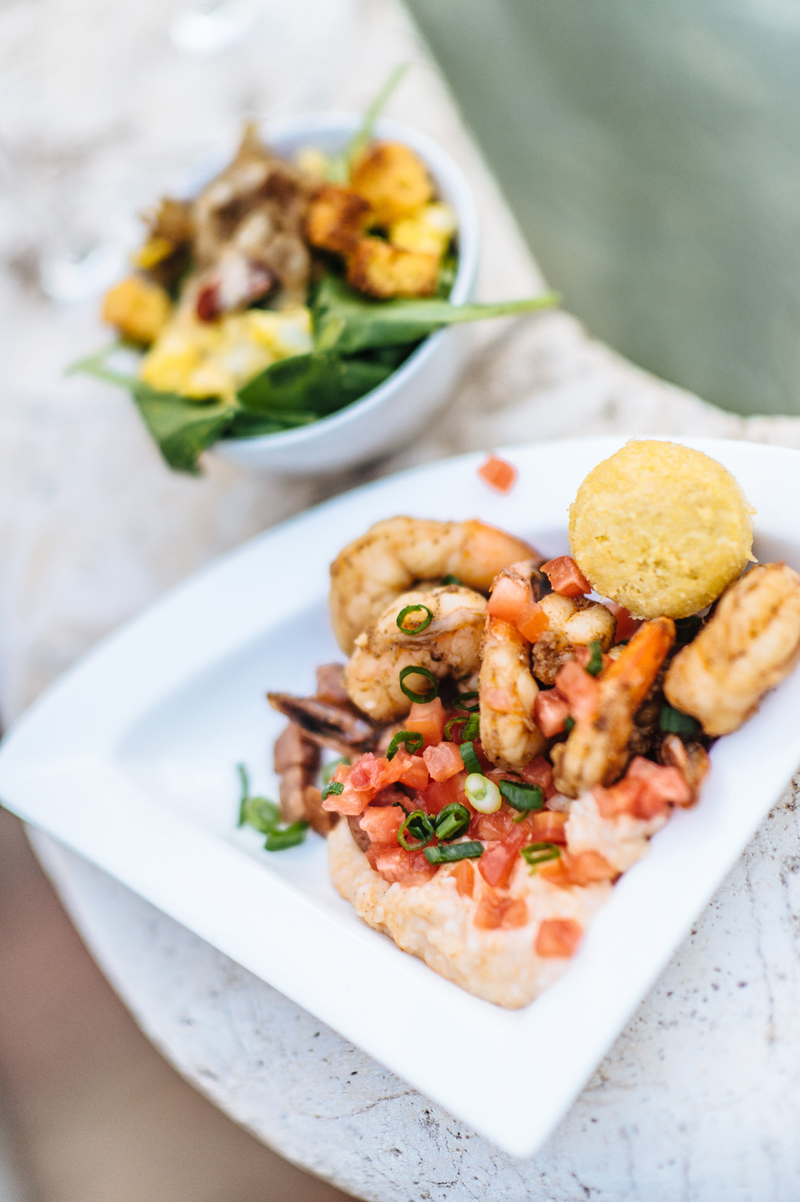 We set up four dinner stations, each with its own custom china, flatware and glassware. From hammered steel to porcelain, we brought in a wide variety of materials to complement these dishes.
The Southern Classic: For a unique spin on the classics, we made Four Cheese Lee Mac & Cheese and Surryano Ham Biscuits featuring local ham cured in the Serrano style in Surryano, Virginia.
Carved Meat: Quickly donned as the guest favorite, we serve our juiciest Beef Tenderloin served with Henry Bains sauce and horseradish chive sauce. Side dishes included roasted fingerling potatoes, grilled asparagus with lemon butter and fresh rolls.
Low Country: Individually-sized "Southern Spinach Salads" had delicious add-ins like hard-boiled eggs, caramelized onions, roasted tomatoes and cornbread croutons finished with a Vidalia onion vinaigrette. Guests also enjoyed Shrimp & Grits with Andouille sausage in roasted tomato gravy served with cornbread muffins.
Chef Tended Short Plates: Our chefs composed "Brick Chicken B.L.T. Short Plate" from a roulade of whole local chicken with heirloom tomatoes, bacon jam with baby arugula, roasted garlic aioli and basil vinaigrette. Displayed prominently, this dish caught the eye of guests with the heartiest appetites.
Serving Beautiful Wedding Desserts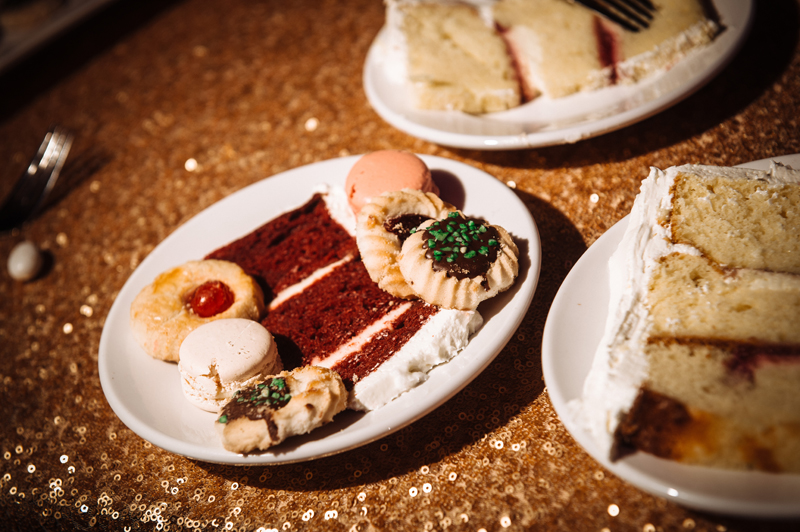 The hues of light pink and gold flowed into the ornate wedding cake display. Evie's Wildflour Cakes designed this stunning cake embellished with the table decorations of BBJ gold tori linen. Complementing the standout cake were our petite sweets, the ivory and blush macaroons. The family even provided their own cookies to increase the sweets!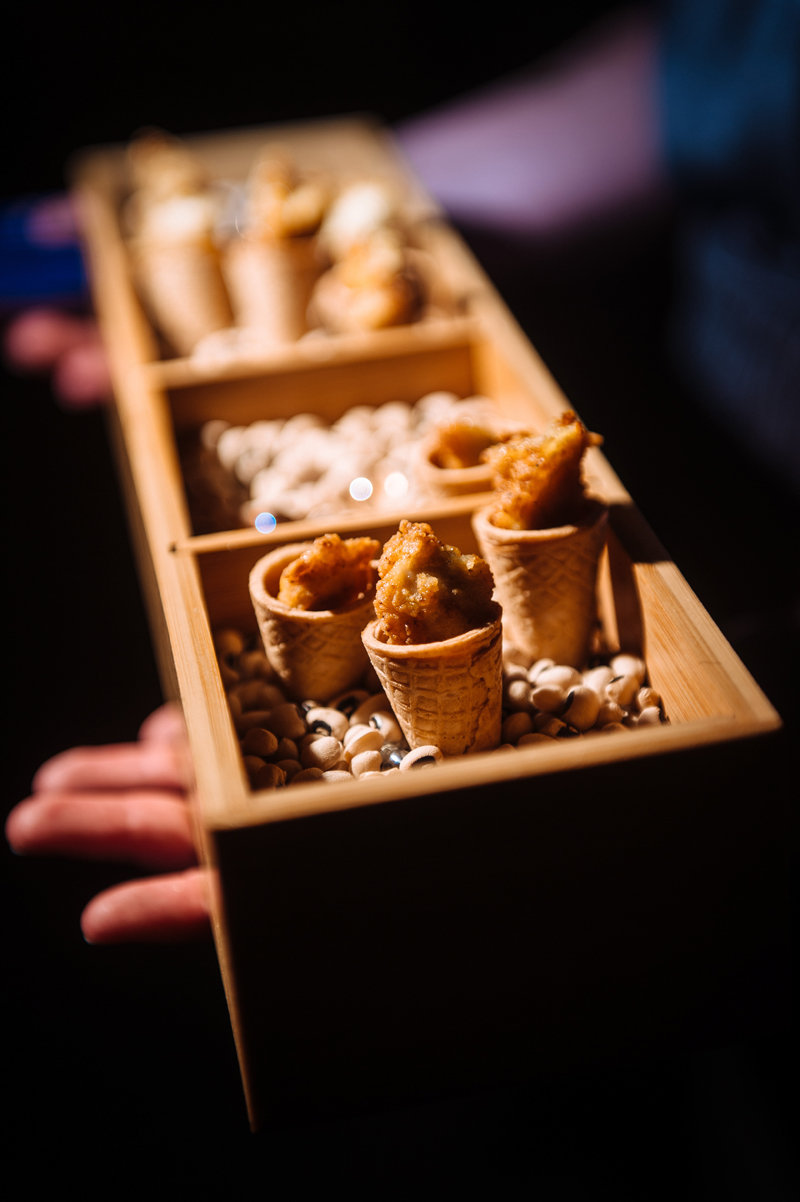 Those looking for a more savory late night treat enjoyed these bites of comfort food:
Mini Cheesy Westerns: We put a unique twist on this Roanoke classic of miniature cheeseburgers served on petite brioche rolls with American cheese, fried quail eggs, caramelized onions, pickle relish and mustard.
Mini Chicken & Waffle Cones: This dish has been a BRC favorite, pleasing clients and guests for years! This creative twist on a traditional Southern favorite serves up sweet fried chicken with vanilla bourbon maple syrup with a hint of chipotle butter in a petite waffle cone.
Relaxing and Celebrating All Night Long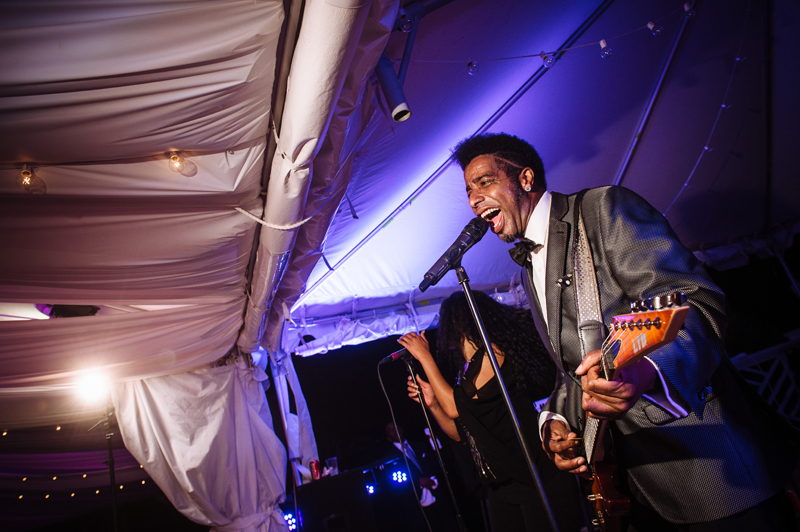 As the live music by Bobby & the Aristocats played on, many guests found their way to the cigar bar and dance floor filled with rustic charm and natural beauty thanks in large part to George's Flowers who dressed up the tables and scenery with fresh décor. Kemper Mills Fant Photography captured the joyous times as guests finished off their last signature cocktail or petite sweet before heading home.
Our passionate team of professionals loves working with couples to bring their wedding dreams to life. From a venue locator tool to innovative chefs and planners, we have resources to help you through each step of the wedding planning process.
For more wedding ideas personalized to your event vision, contact us online or give us a call at: 540-982-7700.