After a perfectly planned engagement at the Biltmore, Joanna and Andrew spent 14 months designing a spectacular, one of a kind wedding day. Joanna is the only daughter of premier florist, Mark Frye of Creative Occasions Events Flowers & Gifts, and she also serves as lead Pastry Chef for Blue Ridge Catering. Family, friends, guests and wedding vendors in our southwestern Virginia town knew it would be impressive; however, no one anticipated the floral and culinary surprises in store for Joanna and Andrew's April 30th nuptials.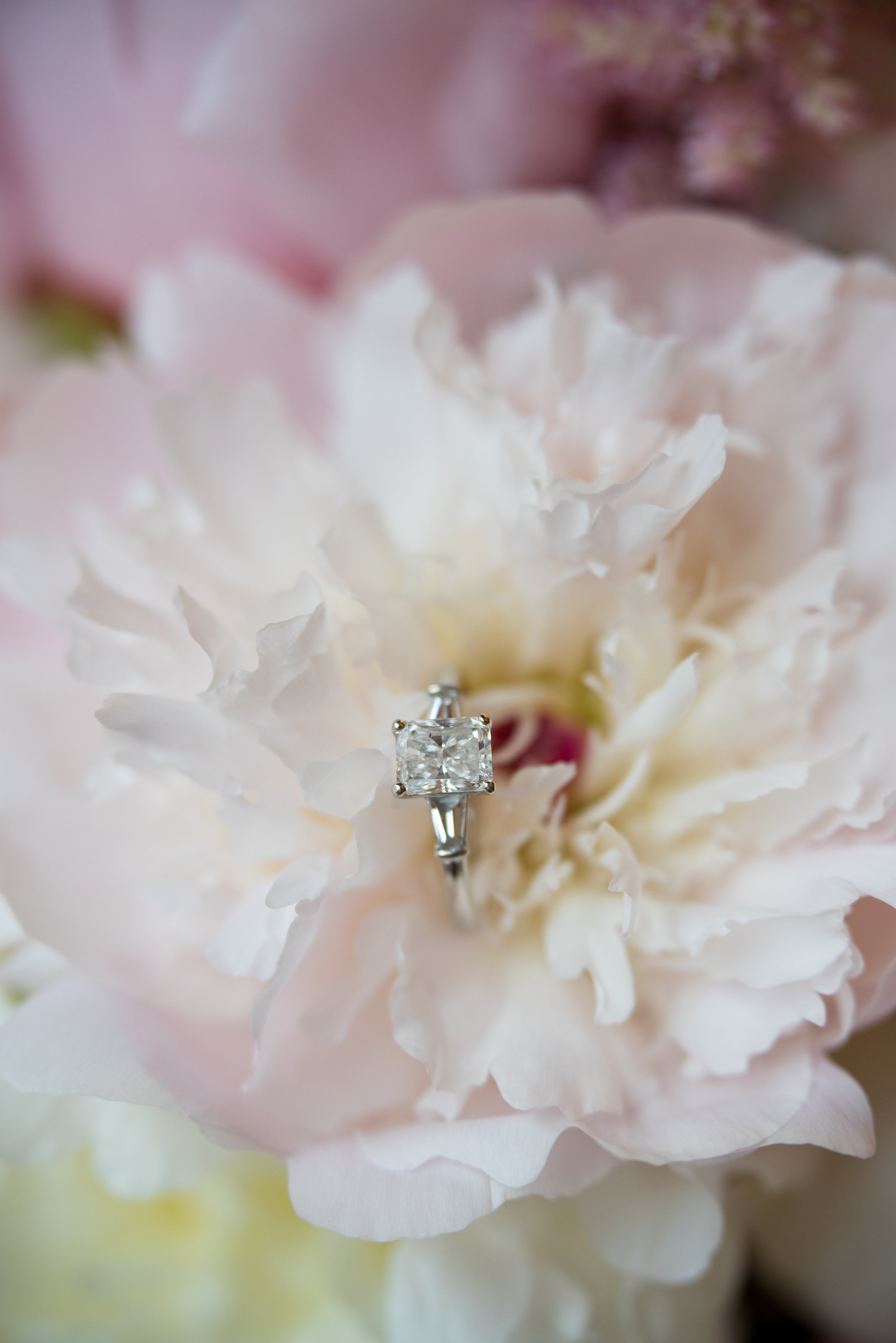 Whilst basking in newly engaged bliss, Joanna and Andrew started the planning process. They toured every venue, tasted every cake, met with lots of photographers, and looked at countless dresses and suits. With food being an important component of a well-planned wedding, Joanna and Andrew made their way to Salem Avenue to meet with the BRC team to discuss menu.
When you work at Blue Ridge Catering, you are part of the innovation and ever-evolving list of hors d'oeuvres, short plates, and stations. Joanna got to see and taste and smell all of the new, hot, delicious menu items, and then she faced the dilemma of choosing which ones she wanted for the wedding. As a couple, Joanna and Andrew wanted to create a fun, social reception for their guests, and needed a menu featuring all of their favorite foods from cocktail hour through last call. After a few edits, additions, and creations, the menu was set and April 30th was in sight.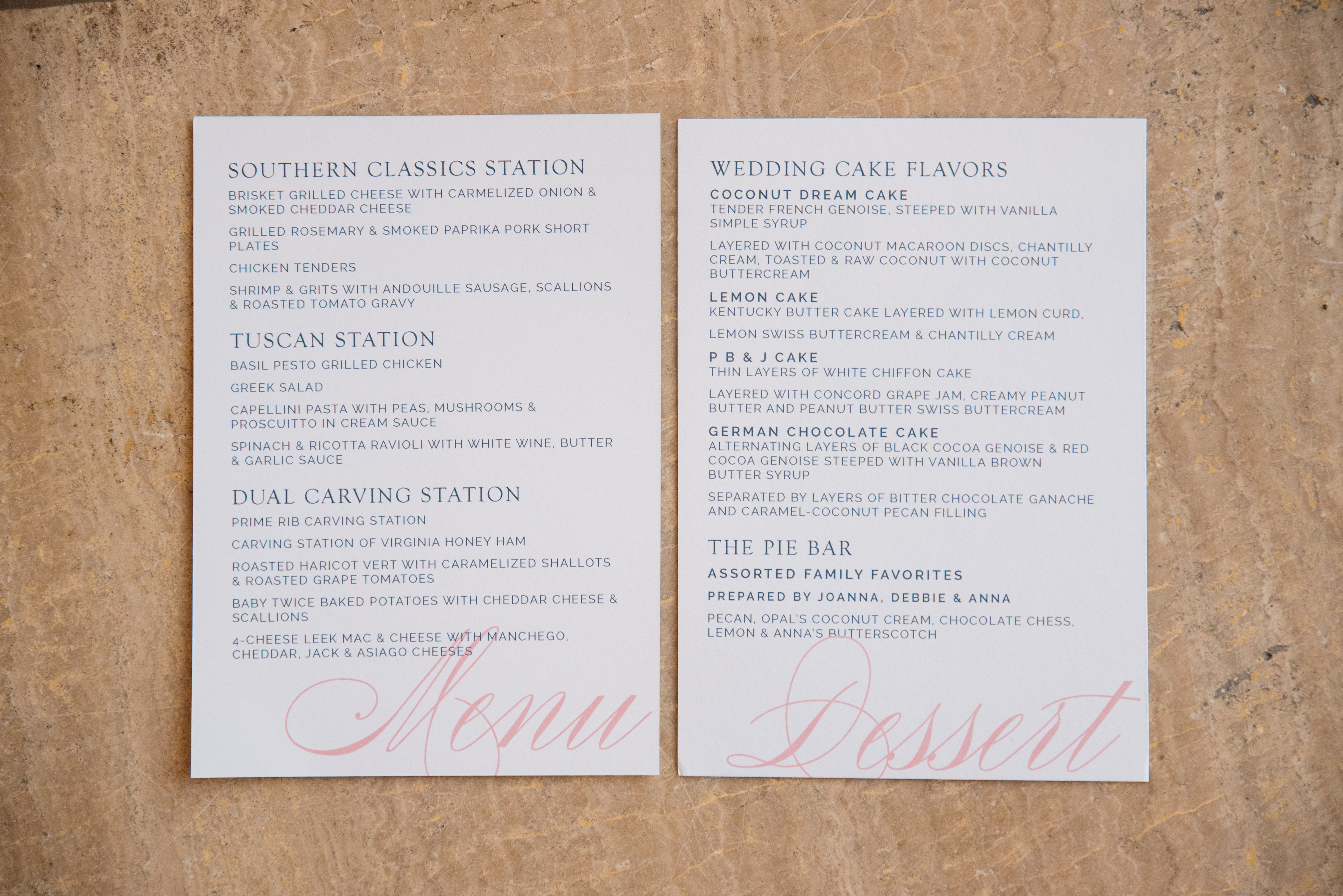 The bride and groom and their respective bridesmaids and groomsman got ready at the Hotel Roanoke. Pulling double duty, Father of the Bride & Wedding Florist, Mark Frye, took additional care in fastening boutonnieres and presenting his daughter with her bouquet filled with pale pink peonies, English garden roses, sweet peas, hydrangea, astilbe, hypericum, and spray roses. After the dress was on, and all the buttons were buttoned, Joanna and her bridesmaids stepped out for some portraits. Some light sprinkles could not dampen the smile on the Joanna's face.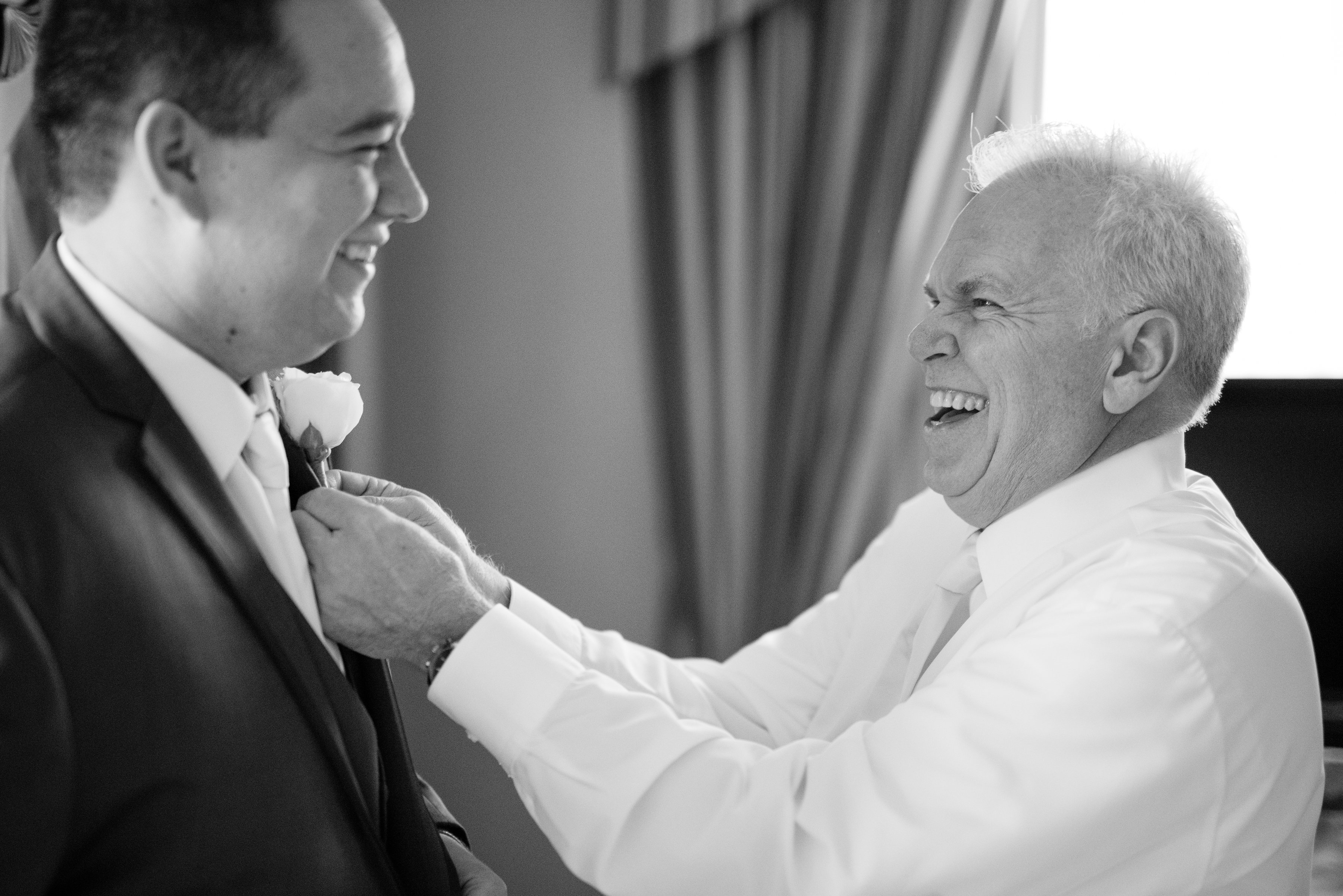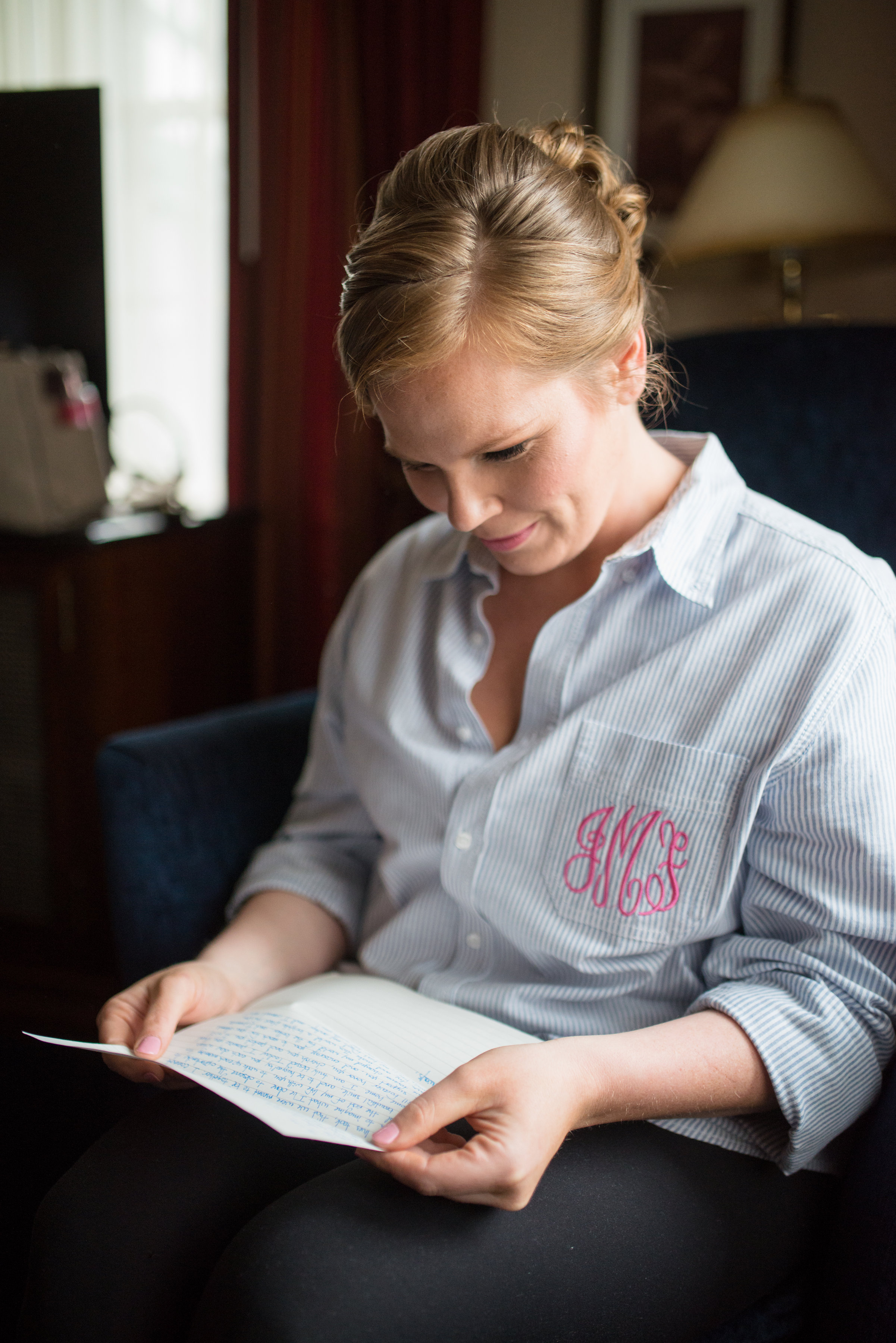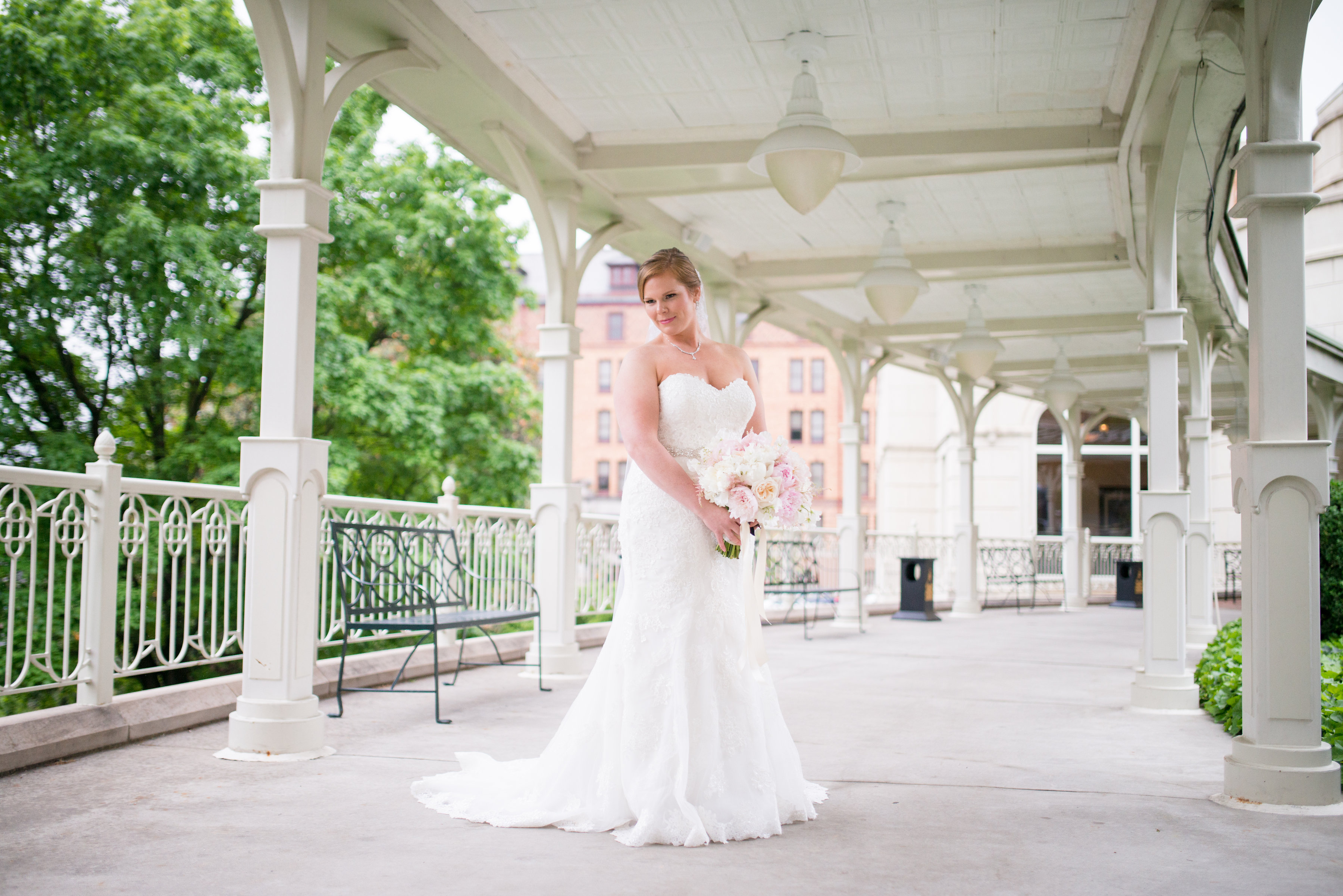 Opting for tradition, Joanna and Andrew decided to wait and see each other when she was walking down the aisle. As soon as she stepped through the door, tears welled in Andrew's eyes upon seeing his beautiful wife to be.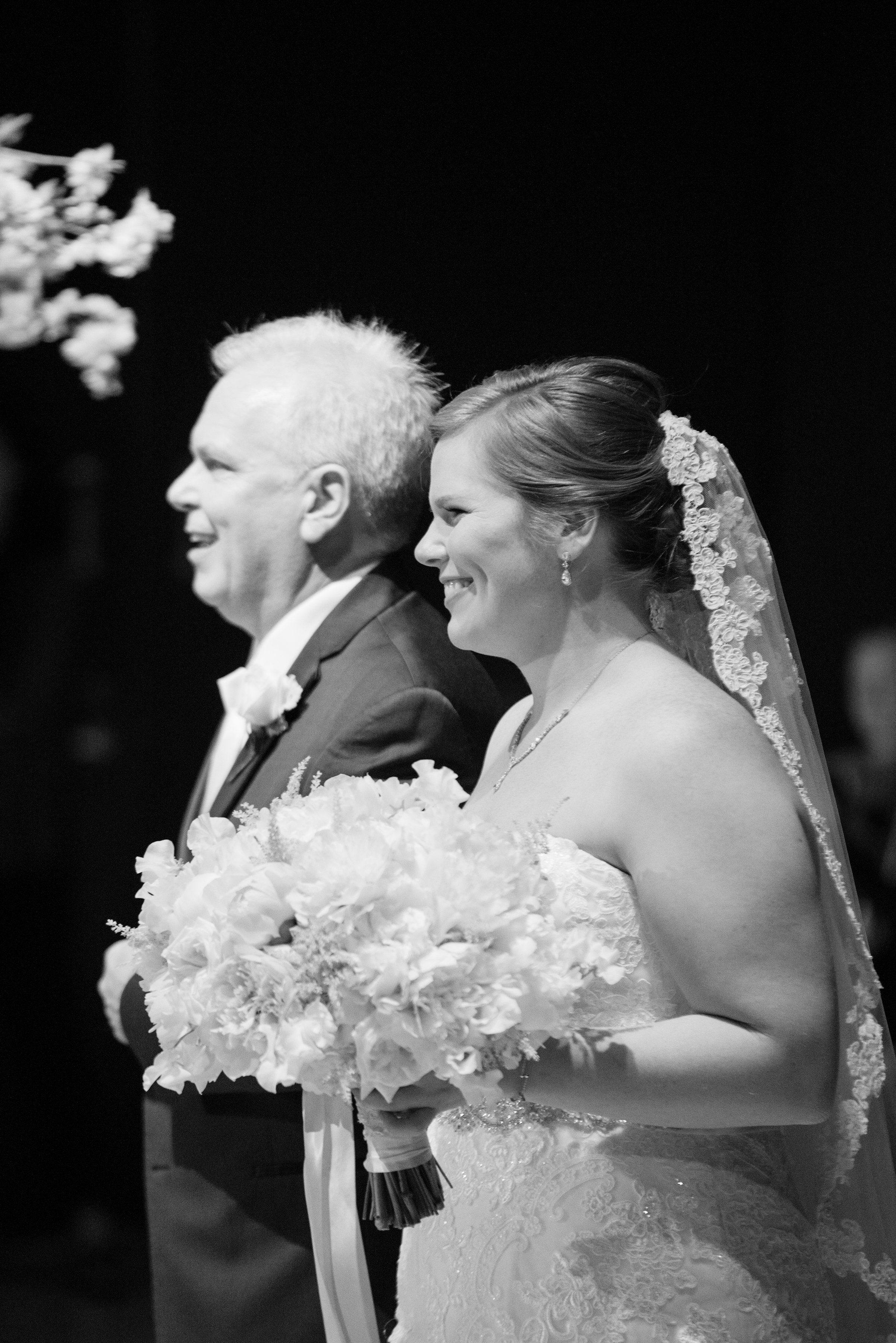 The ceremony was performed in the Black Box Theater at the Taubman Museum of Art. Hung over the altar was an antique stained glass window, encased by tall vases of Dogwood blossoms, and supported by blooms of hydrangea, rose, and peony. The aisle was lit with hundreds of candles, providing the perfect soft lighting.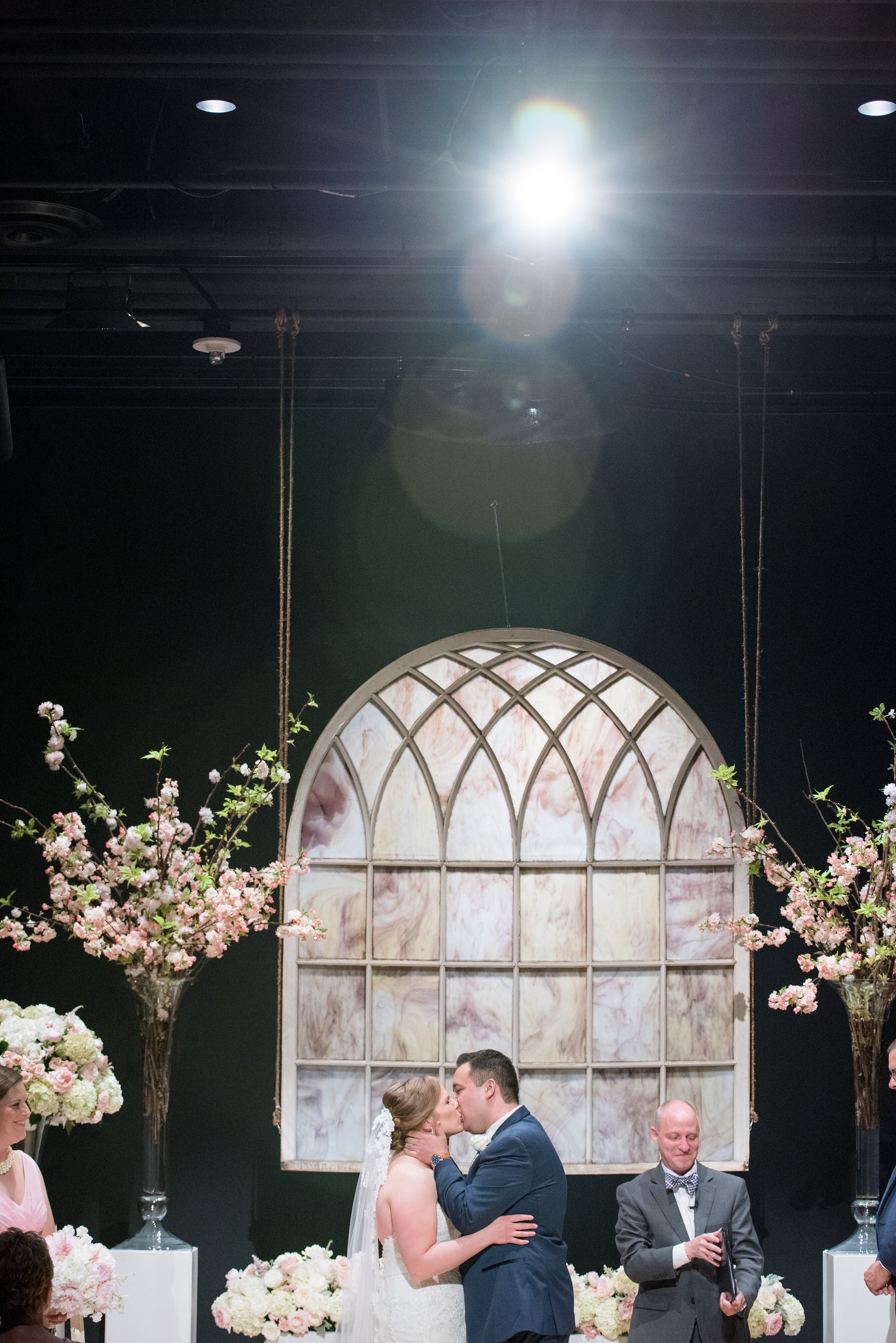 After the ceremony, guests were ushered into the cocktail hour space for passed hors d'oeuvres and a full bar.
PASSED HORS D'OEUVRES
• "Pig" Newton- A Sweet & Savory Twist on the Classic Fig Newton
• Mini Chicken & Waffle Cone
• Nashville Hot Chicken Sliders
• Fried Green Tomato Canape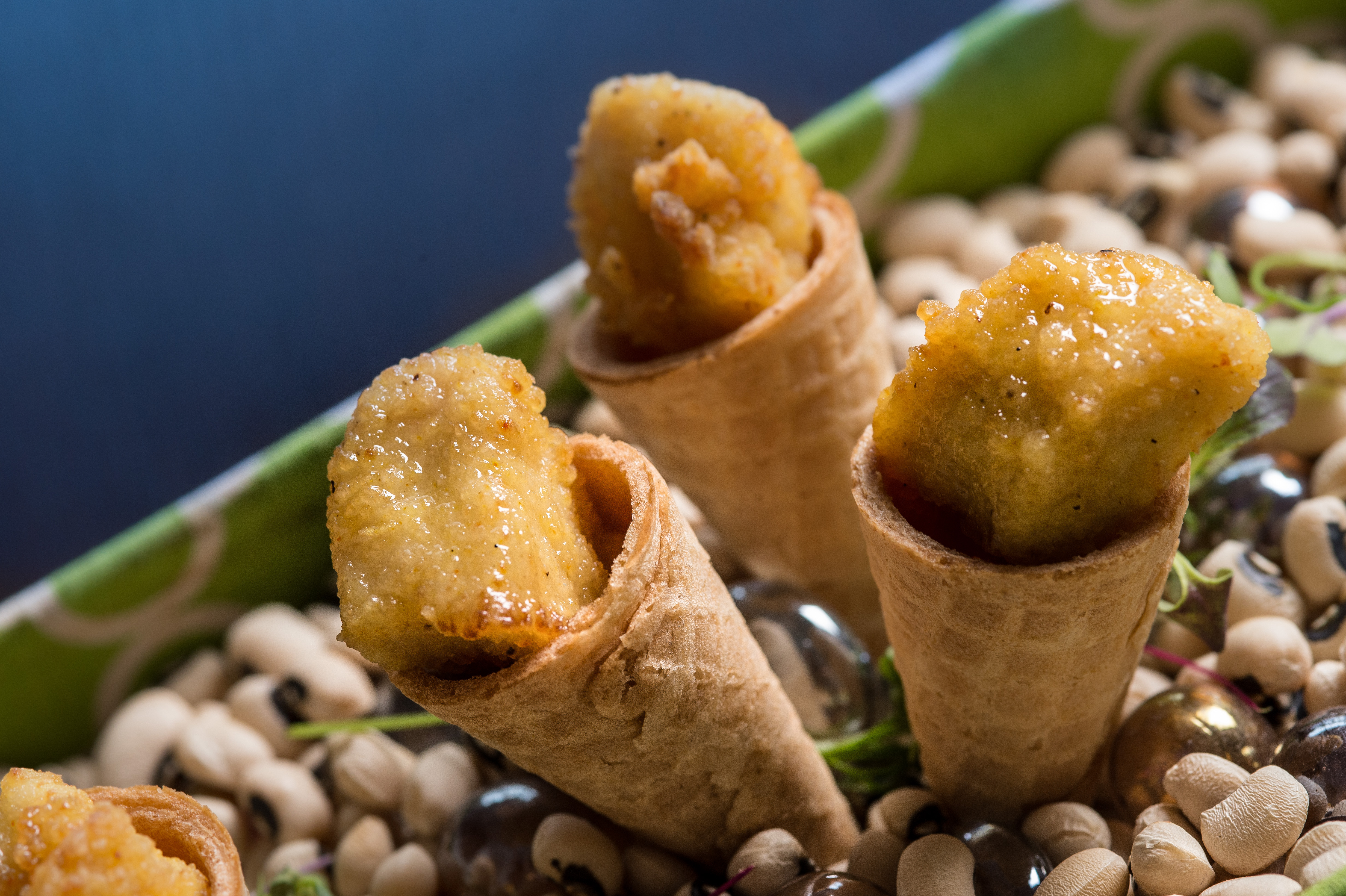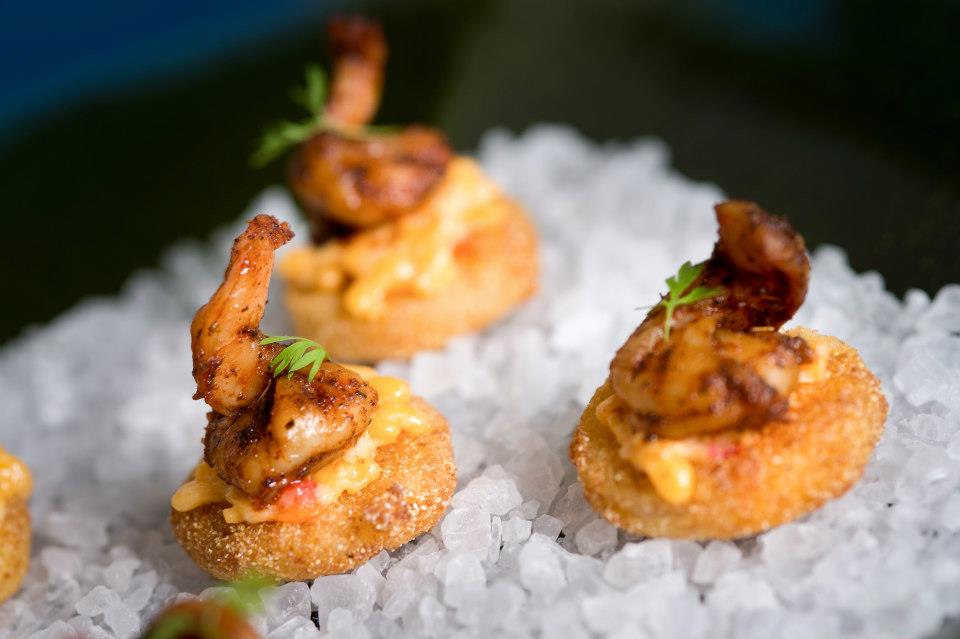 Chicken & Waffles & Fried Green Tomate Canape Images- Kemper Mills Fant Photography
For the reception, guests entered the Atrium featuring jaw dropping floral creations. The museum's iconic staircase was lined with cascading floral bouquets transitioning from soft, baby pink to warm magenta, seating tables hosted a variety of arrangements ranging in height and depth, all brimming with blush, white, green, and ivory floral. Joanna and Andrew entered the reception, ascending from the top of the staircase.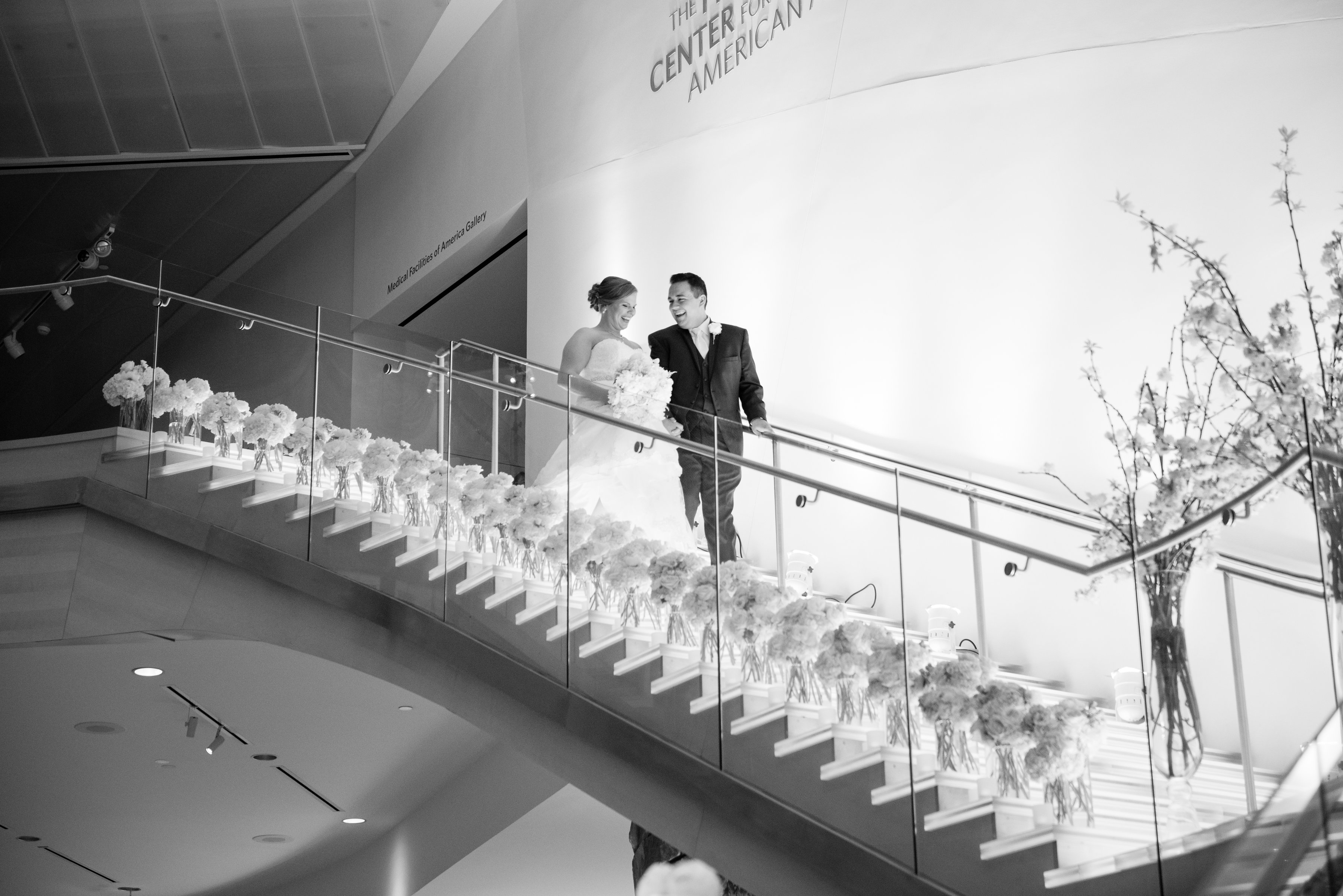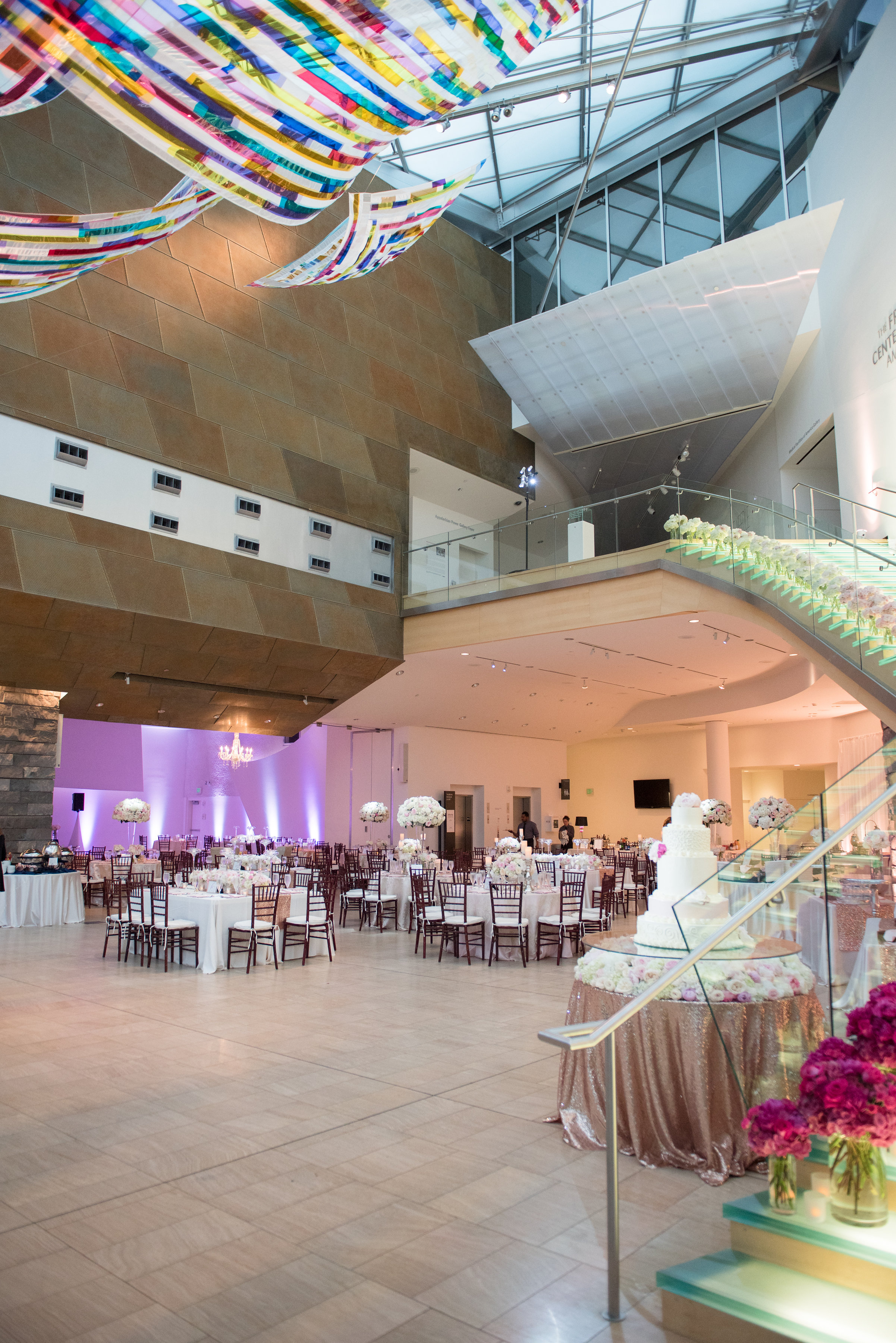 Traditional dances followed and a heart-felt, tear-filled toast by the Father of the Bride. With the toast and a blessing, food stations opened and dinner was served, and all 150 guests enjoyed a bountiful, Southern-inspired feast.
STATIONS
Southern Classics Station
Chicken Tenders
 Brisket Grilled Cheese
Grilled Rosemary & Smoked Paprika Pork Short Plates
 Shrimp & Grits
Tuscan Station
Greek Salad
Capellini Pasta with Peas, Mushrooms, & Prosciutto in Cream Sauce
Spinach & Ricotta Ravioli
Basil Pesto Grilled Chicken
Dual Carving Station with Prime Rib and Virginia Honey Ham
4 Cheese Leek Mac & Cheese
Roasted Haricot Vert
Baby Twice Baked Potatoes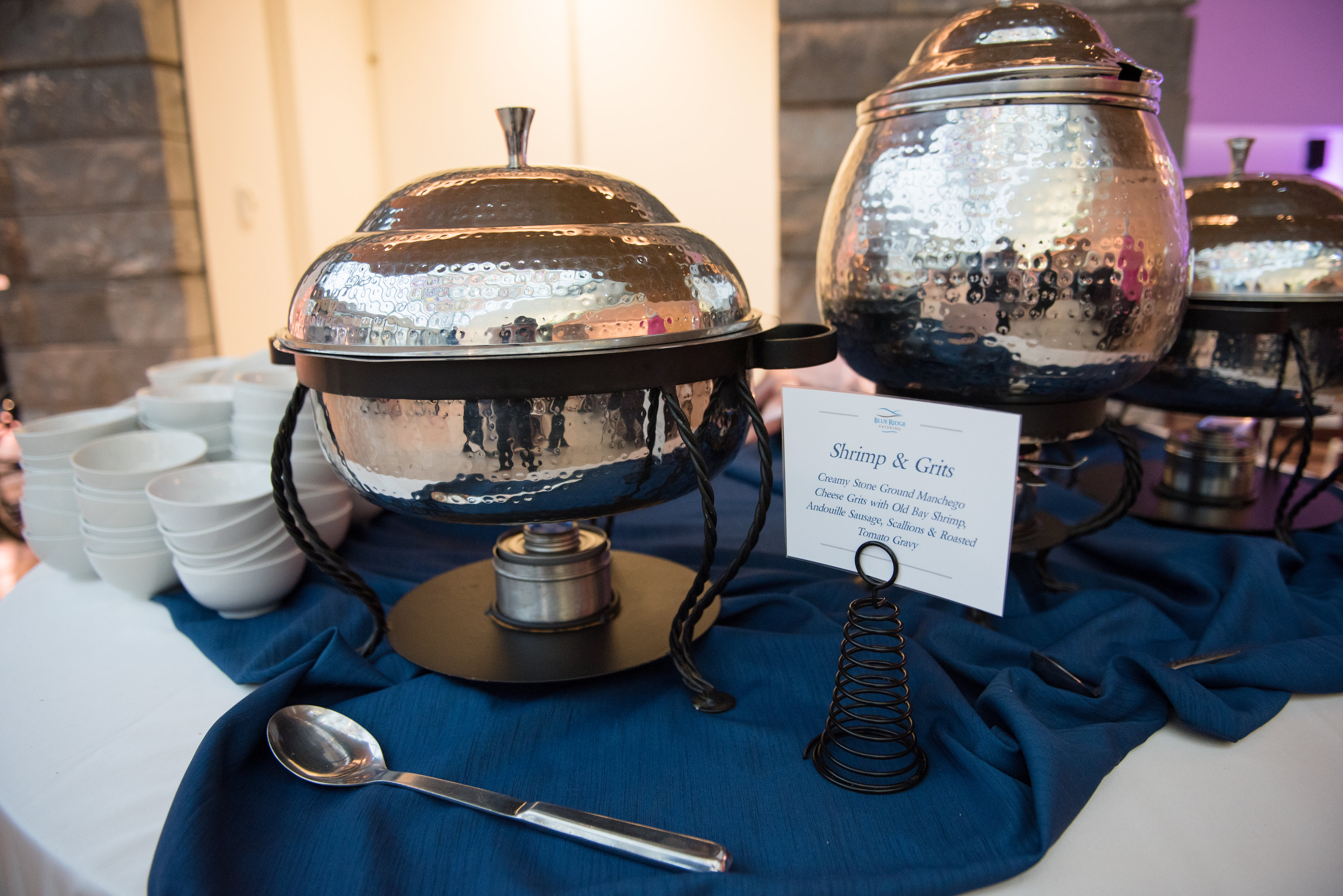 After dinner, guests danced, enjoying fully the remarkable event that had taken many months to plan. A top shelf bourbon bar, the spirit of choice for both Joanna and Andrew, was positioned in the atrium. The bar featured Woodford Reserve, Jefferson's Reserve, Blanton's, Mitcher's, and John J. Bowman.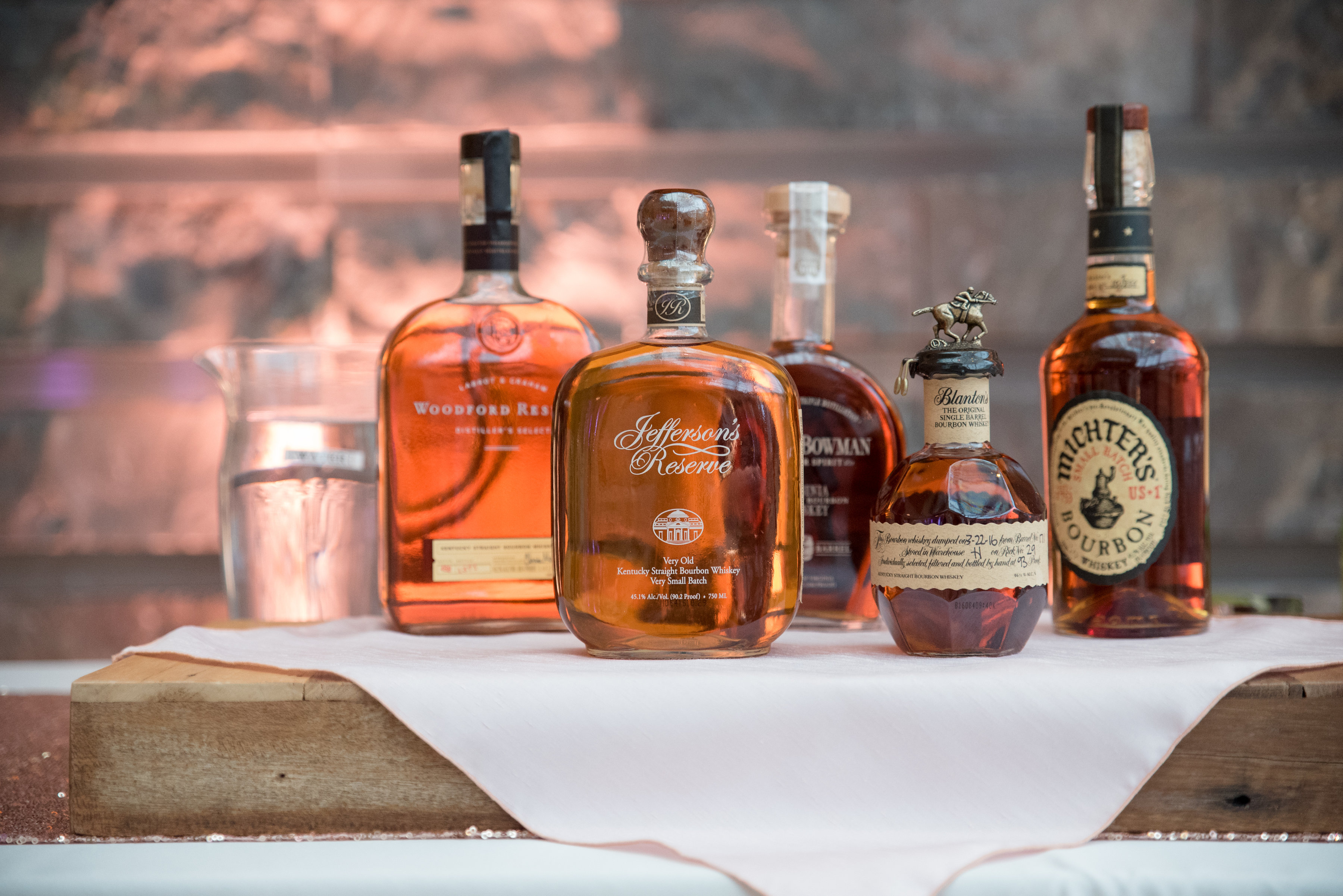 Sweetening the night was the 5-tier wedding cake, crafted by John Schopp of Center Stage Catering. The 5-tier cake was comprised of Chocolate Dream, Lemon, PB & J, and German Chocolate Cakes.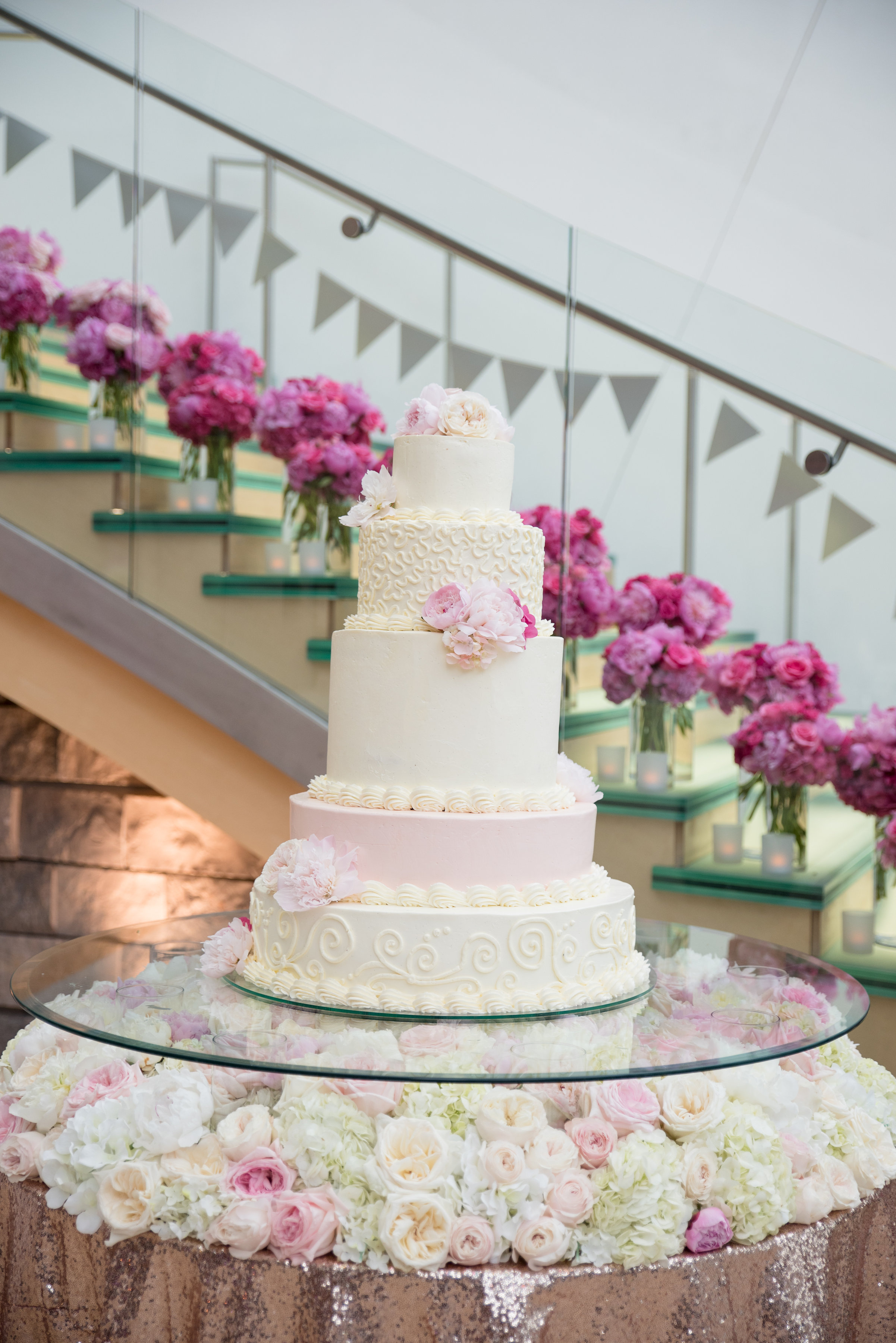 Not to be outshone, a table plentiful with homemade pies was positioned to the left of the cake. All of the pies were made by mother of the bride, using family recipes. The pies were an essential element to Joanna with pastry and desserts being such an important part of her life.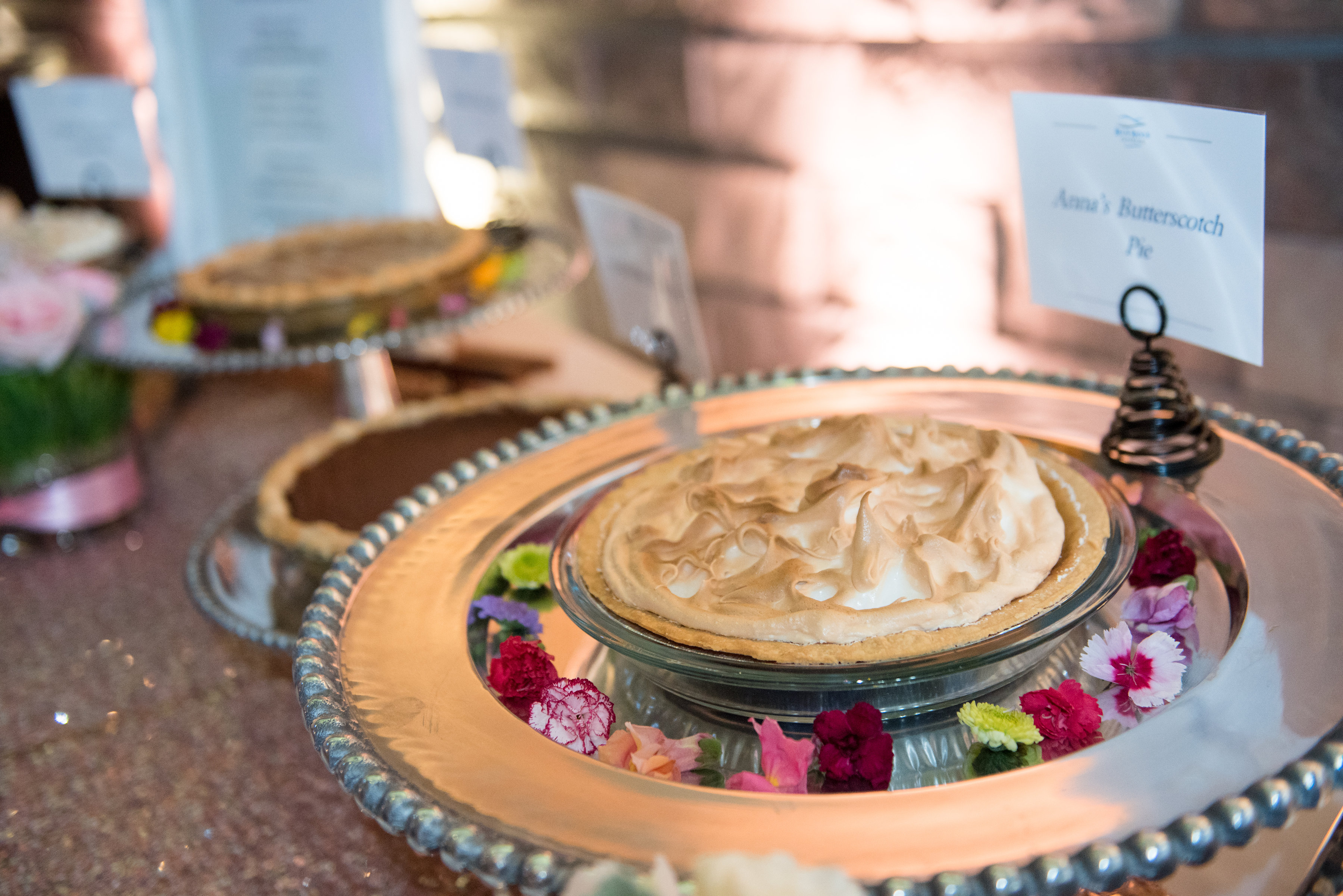 With dancing in full swing, to ensure that no one left hungry, BRC rounded out the menu with late night bites for guests to enjoy!
LATE NIGHT BITES
• Mini Cheesy Westerns
• "Bye Bye Frye" French Fry Cones with Ketchup & Ranch for dipping
Dancing continued until 10:45 when the last song was played and the lights went up. Guests lined up outside to wish Joanna and Andrew well and sent them off into their getaway car, an antique Rolls Royce. To the Morrises, an overcast, slightly rainy April day in Roanoke, Virginia, was just perfect. Where it all began and where it was always meant to be.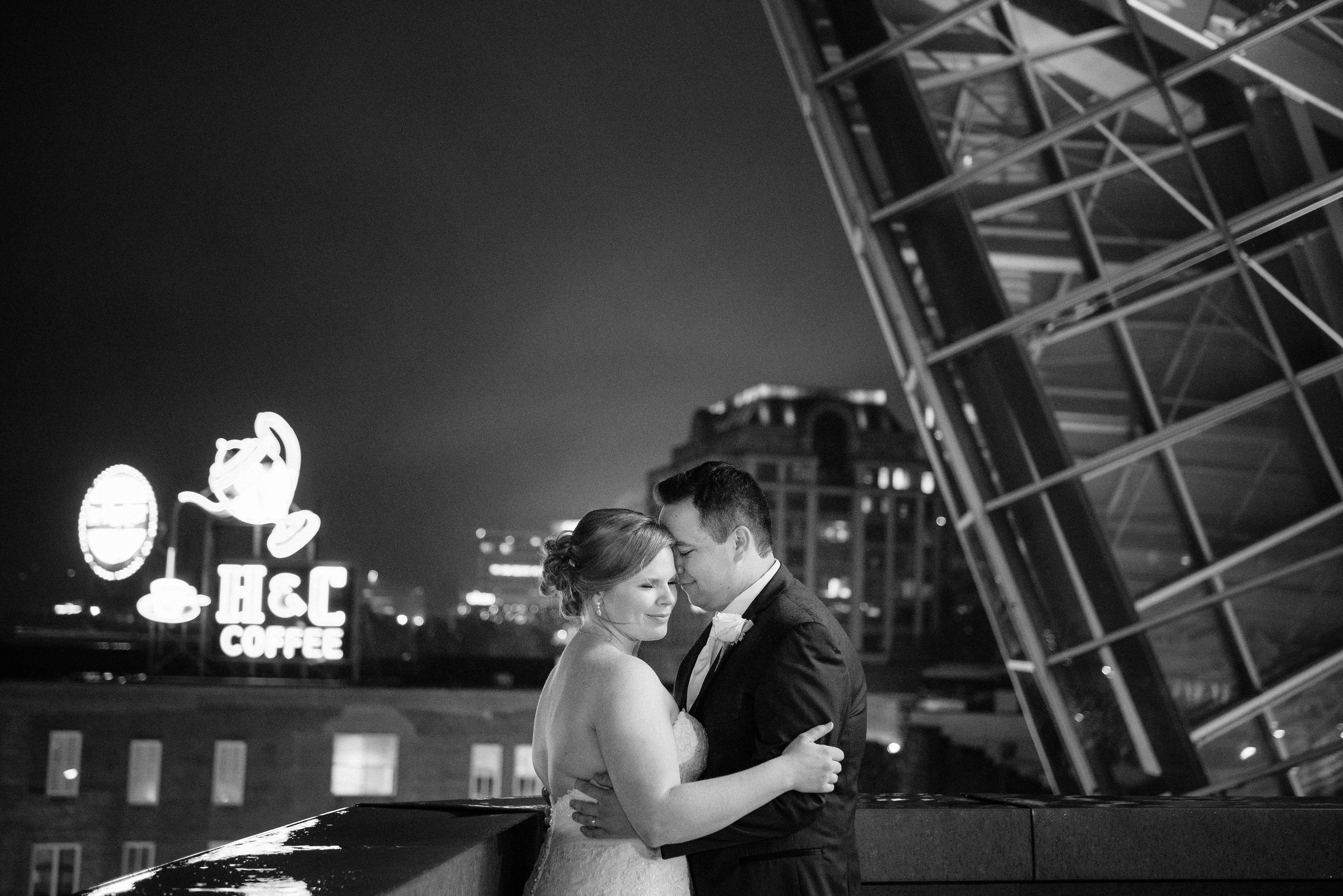 Joanna & Andrew's Wedding was featured on Borrowed & Blue on October 3rd.
VENDOR LIST
Venue: Taubman Museum of Art
Caterer: Blue Ridge Catering
Florist: Creative Occasions Events Flowers & Gifts
Photographer: Sam Stroud Photography
Videography: Solo Koo
Coordination: Events by Sherri
Lighting: Lighting Ninja
Music: RSP Entertainment
Cake: John Schopp of Center Stage Catering
Invitations: Paperwhites
Rings: Jewells Fine Jewelry
Rentals: Paisley & Jade and Country Road Vintage Rentals
Wedding Dress: Essence of Australia
Bridesmaid Dresses: Alfred Angelo
*All images are courtesy of Sam Stroud Photography unless noted.