Kemper Mills Fant is a wedding and portrait photographer based out of Roanoke, Virginia, where he has been professionally photographing weddings for ten years. Kemper offers wedding couples comprehensive coverage of their wedding days, including gorgeous relaxed portraiture, amazing details and all of the special moments. He believes in delivering an exceptional product to his clients, working hard to surpass the concept of just being great at portraits or great at details. Kemper knows what to expect when he comes to photograph a wedding and comes prepared with both experience and ability.
Kemper is one of Blue Ridge's preferred photographers. We having been partnering for food photography for 5 years, and he took most of the mouthwatering food photos on our new website. Read more about Kemper's passion for photography in this Q&A.
What inspired you to be a photographer?
I was really young when I became interested in photography, probably 11 or 12 years old. I suppose I was very aware of photography's ability to capture the essence of people and places at a point in time. Even then I recognized the documentary value of photography. I loved the world I saw through photography and the emotion of it intrigued me. I wanted to be able to capture that.
What makes you different from other photographers?
My openness and ability to connect with people is key. I think people quickly feel comfortable around me, and it helps them relax and enjoy the photography experience. At least, that's what they tell me! I'm just a people person, and if you combine that with creativity, the gift of a natural eye and a long earned mastery of technique, it helps deliver a product that people perceive as an exceptional value.
Where is your favorite place/venue to take photos in Roanoke?
No question, my favorite venue is Sundara in Boones Mill. It's the only venue where I will actually arrive an hour or two earlier than usual just to relax and enjoy the day before a weddings starts. It's just such a beautiful place, so peaceful, and the way the landscape just surrounds you there makes you feel comforted and protected. It's definitely a special place on this earth.
Share with us your favorite image from the Blue Ridge website and why you like it.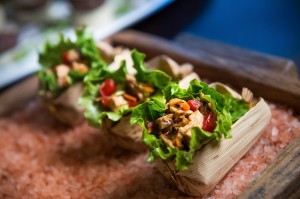 I love the image of the petite chicken lettuce wrap with thai chili marmalade dipping sauce that was used on the homepage. The composition in that image is exactly what people try to achieve when photographing food. Plus, it looks delicious!
Share with us your favorite image in general and why.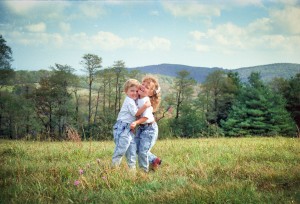 That's an easy one because it's what I call my "million dollar photo." It is so important to me that I wouldn't take a million dollars for it. It is a photo of my children taken at a roadside picnic on the Blue Ridge Parkway when they were about 4 and 6 years old. It's not perfect because it was taken on film that got damaged in storage, but this photo really captures the very essence of my children's personalities and, of course, a very fun time. I love it to death.
What type of session do you look forward to the most (wedding, engagement, family photos, etc.) and why?
I love the engagement session. It is such a great time to get to know your clients as people, hang out with them, and get some great photographs. I love the way most people come excited about the session and the images that follow. All of my clients love it, and they're always super excited to see the images. It makes a photographer feel really successful when it all comes together like that.
Is there anything else you would like our clients and blog readers to know about you?
I'd love for them to visit my website at www.kempermillsfant.com, especially if they are looking for great photography. If they like what they see and would like to talk to me about making sure they have great photography that captures their wedding day perfectly, I would love to speak with them.