Client: SFCS
Event: Corporate Conference
Venue: Taubman Museum of Art
Guest Count: 245
Date: February 18, 2015
Photographer: Tara Lilly Design + Photography
Lighting: Lighting Ninja
Florist: Creative Occasions Flowers & Gifts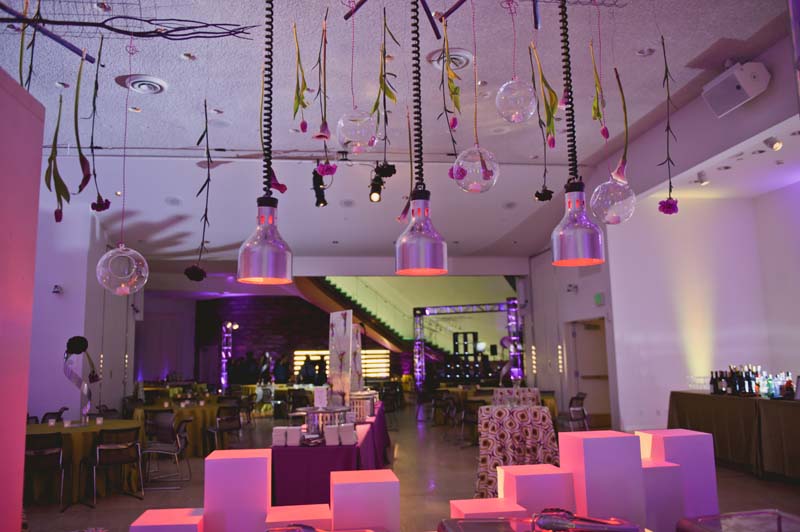 This national conference for leaders in senior living struck guests with ideas of "Disrupt Now!" and "Igniting Change for the Future." Sessions and famous speakers shared positive ways to defy the norm and overcome challenges. To celebrate the 30th year of this big conference, we wanted to create an event that would truly "wow" guests. From color scheme to menu selection, every element was vibrant and innovative.
Transforming a Roanoke Event Space
Our task was to create a contemporary dining experience. Our first step was to find the color scheme to match the event theme perfectly. We sent our client a selection of linen designs that coordinated with their save the date, and they loved the "pop" linen. Based on this, we decided the signature colors for the event would be citron and moss green tones with accents of plum.
Once the color scheme was set, we met with our vendor partners, Creative Occasions and Lighting Ninja to discuss floral, decor and lighting options to change the look of the space.
Uplighting: Uplighting in beautiful amber/purple hues was strategically used throughout the venue that highlighted the stone-wall, masked the doors, provided a decorative backdrop for the bar and lit up the seating area. We also used uplighting on the drapery to complement the linens.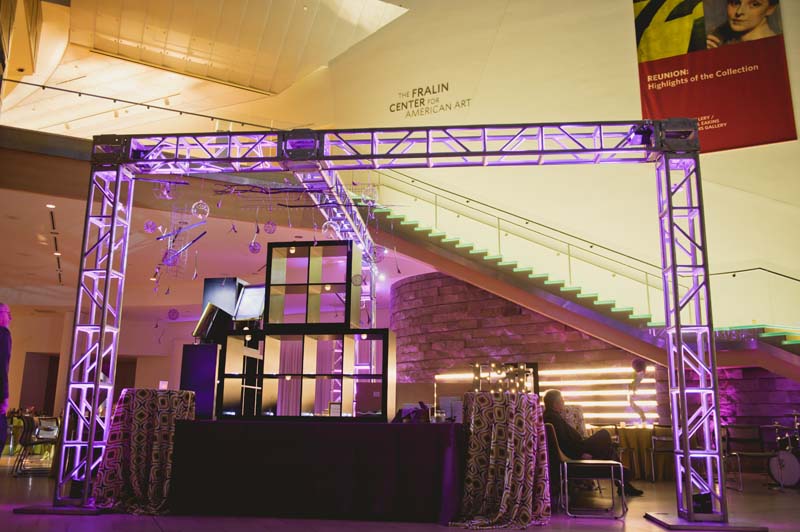 Floral: Inspiration for the contemporary floral designs came from the modernness of the museum and the color scheme. There were several different floral arrangements matching the different types of tables for variety. Some of the arrangements included:

Round guest tables: a silver spiraled metal stand supported a rounded orb, designed of plum carnation blooms. For added elegance, a cascade of plum mini callas poured down from the tip of the orb toward the table surface and votive candles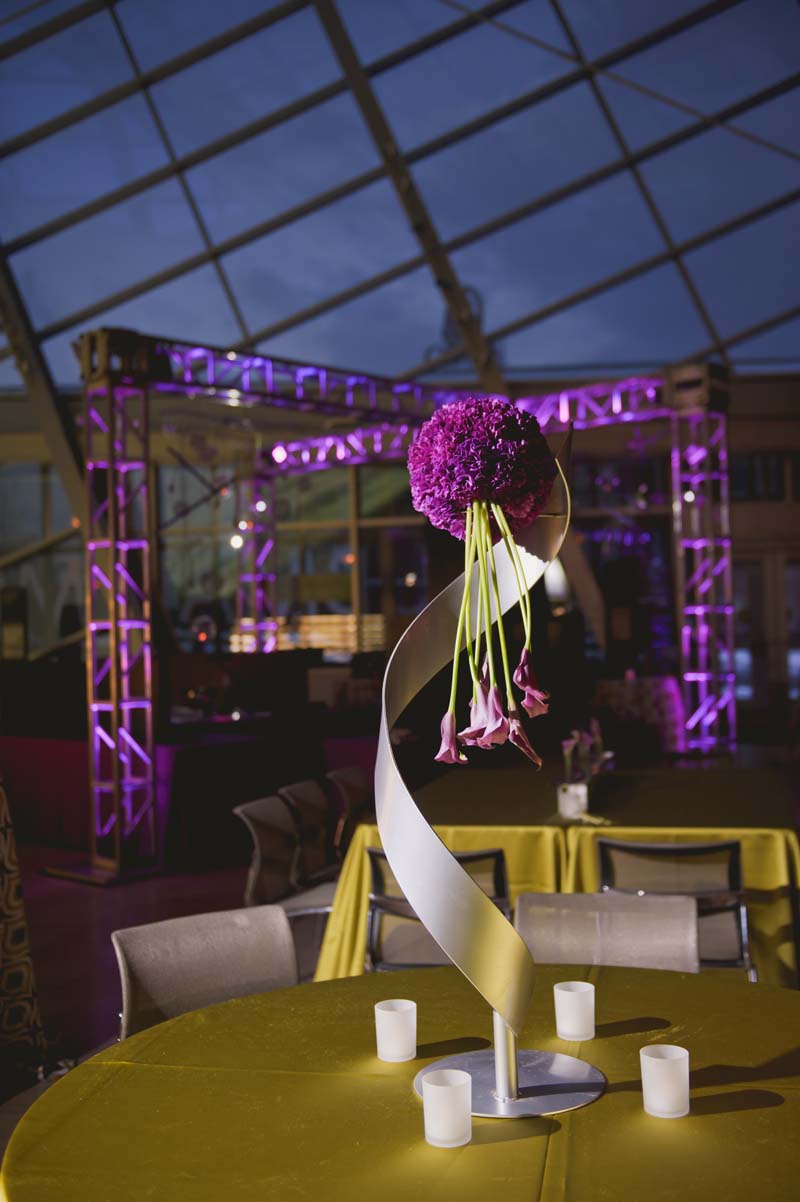 Square guest tables: rectangular mirrored trays supported a horizontal arrangement of plum manzanita branches. And glass tubes inserted vertically through the grid of the branches incorporated fresh flowers.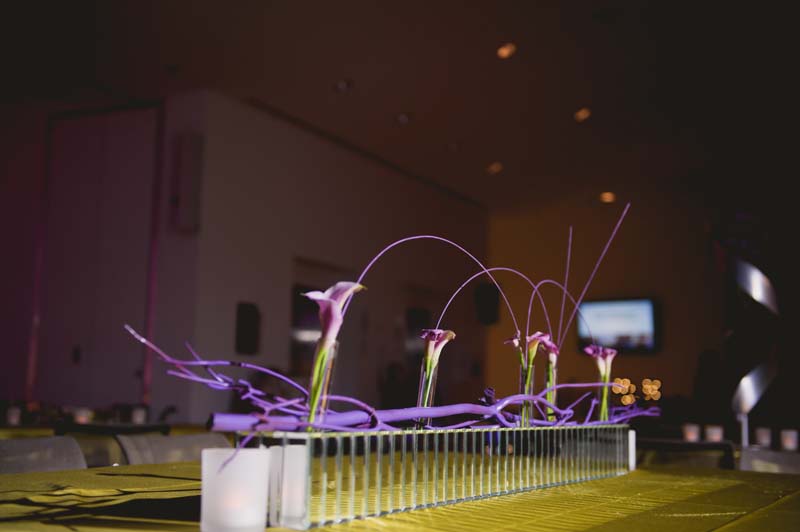 Let's Start Dining!
As soon as guests arrived to the Taubman Museum of Art, they were greeted with passed signature cocktails and hors d'oeuvres.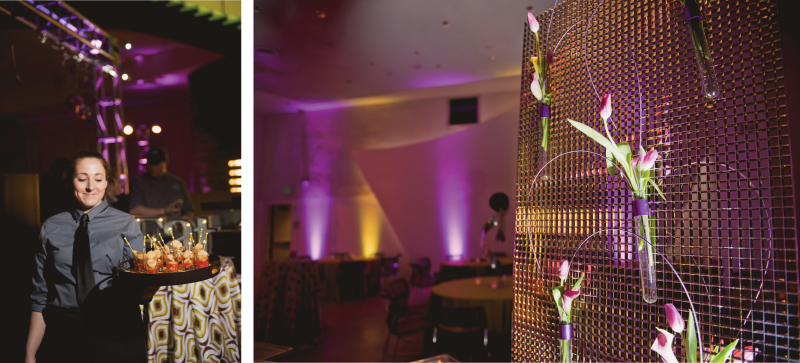 Throughout the atrium and auditorium were open bars and food stations.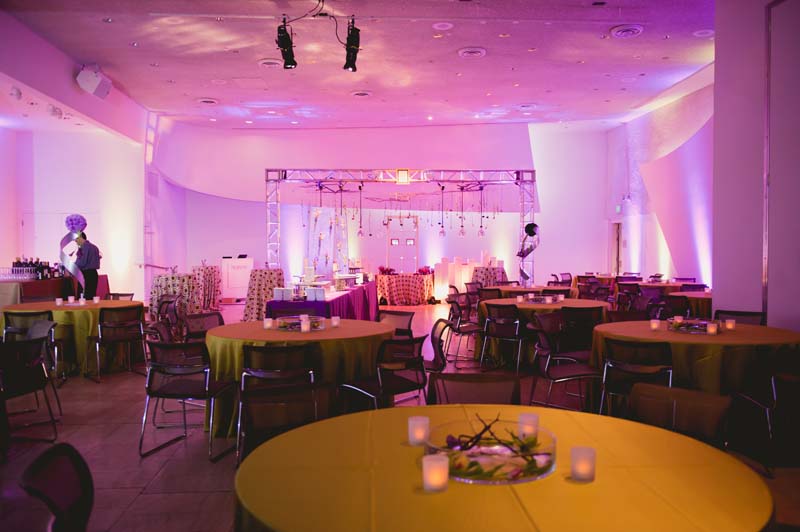 DC Steakhouse: This food station was dramatically staged by building a fencing-style table and hung lighting and floral from the trussing. The open area of the trussing over the food featured a plum manzanita structure with mini callas and tulips woven throughout silver wire orbs.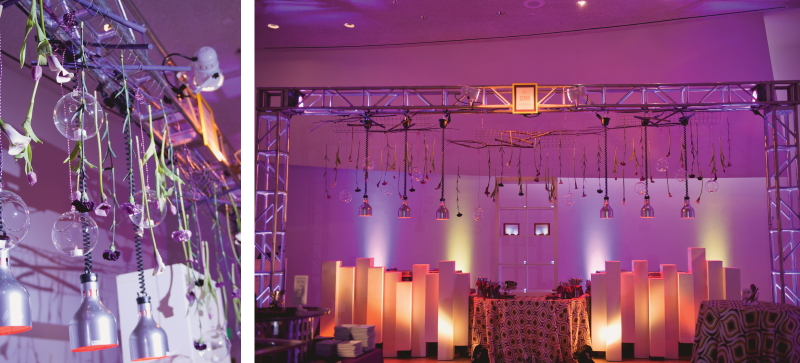 Of course, the most impressive part of any food station is the menu:
Carved Beef Shoulder Tender
Mini Loaded Baked Potato
Petite Ramekin of Creamed Spinach
Wedge of Baby Iceberg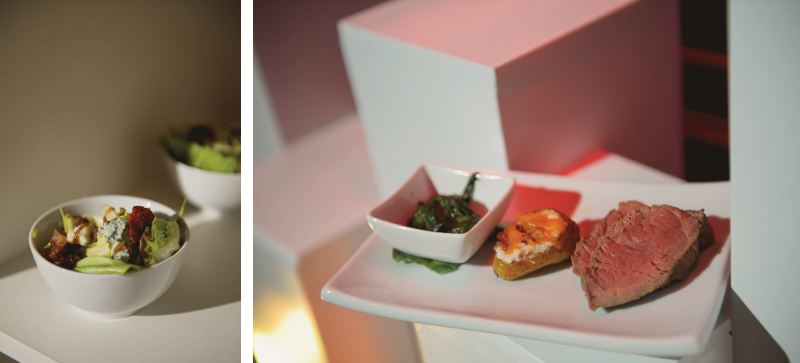 Short Plates: We collaborated with lighting and floral to artistically decorate this large square station. Silver and purple wire orbs were suspended from truss and encased purple manzanita branches. Fresh tulips and mini callas were also bound into the orbs and truss.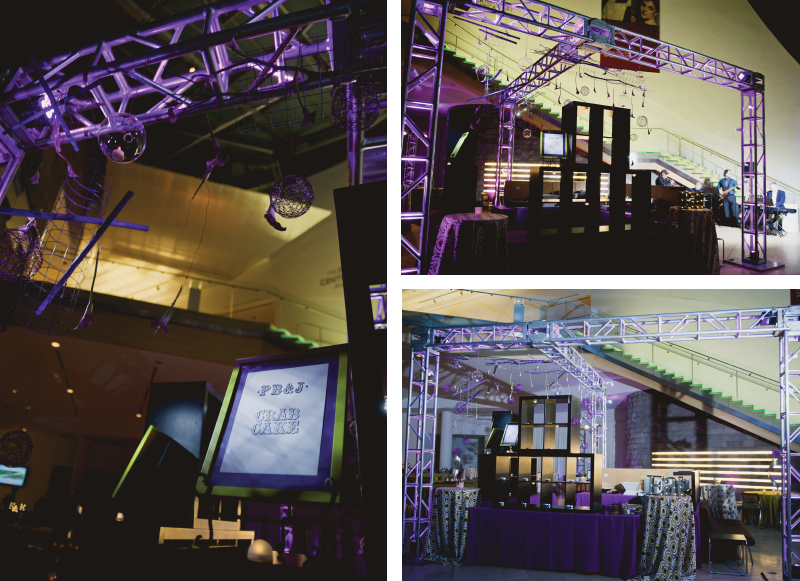 While our design team creativity brought in special elements like bookcases, our chefs dreamed up these exceptionally innovative dishes:
Roast Chicken
"PB & J" Crab Cake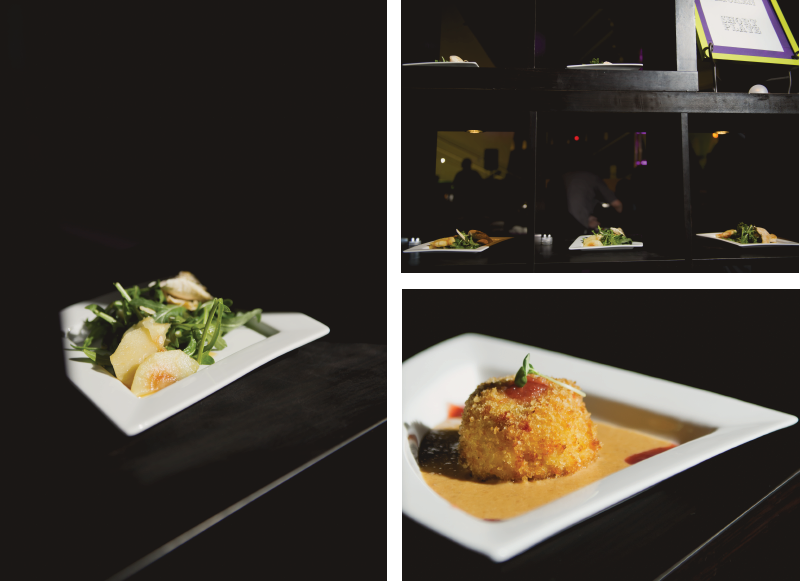 Italian Station: This station was displayed in the middle of the atrium and attracted many vegetarians and seafood lovers with this stunning menu:
Pecan Pie Salad
Sweet Potato Gnocchi with Arugula & VA Apples
Pesto Shrimp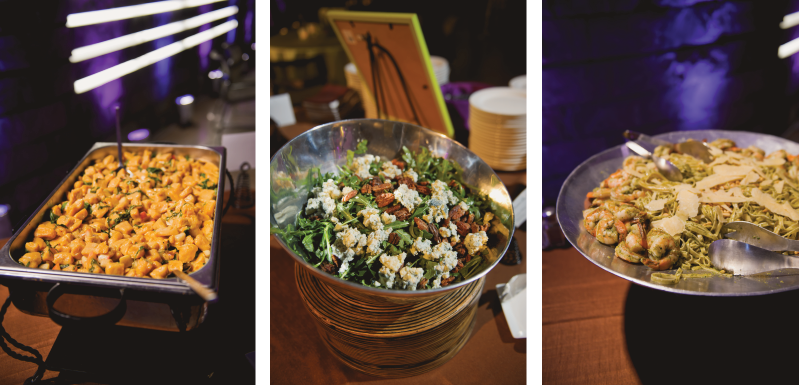 Extraordinary Desserts
Our favorite petite sweets took center stage in a dramatic fashion. We created a dessert wall using clear glass tubes bound into a vertical grid of silver metallic polymer. This held an artistic arrangement of plum tulips and mini callas accented by citron midollino branches.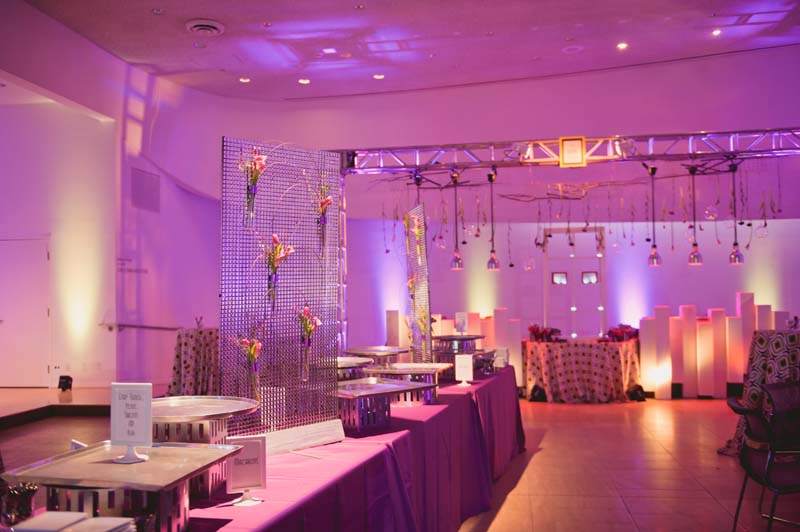 This stunning display welcomed guests to a selection of creative sweet treats:
Petite Pretzel Donut
Caramel Apple Napoleon
Mini Krispy Kreme Bread Pudding
Macaroons
Milk Shooters with Mini Chocolate Chip Cookies