Ribbon Cutting for Red Sun Farms!
Client: Red Sun Farms
Event: Ribbon Cutting & Dedication Ceremony for Dublin, VA, Facility
Venue: Dublin, VA, Red Sun Farms Facility
Guest Count: 225
Date: November 17th, 2014
Photographer: Shannon Ainsley, Photographer, Always and Forever Photo
Florist: Gabriel M. Graham, Owner, Northside Flower Shop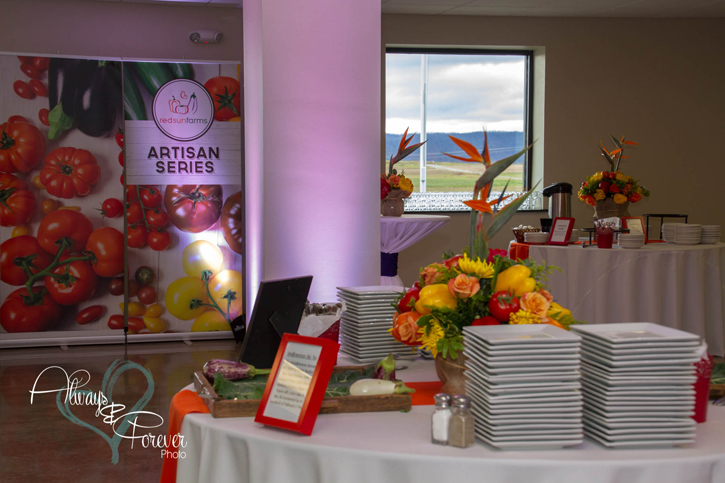 This ribbon cutting and dedication ceremony introduced a division of Red Sun Farms to the local community in Southwest Virginia. Red Sun Farms is a Canadian-based company with facilities throughout the United States, Mexico and Canada. The brand new farming facility is located in Dublin, Virginia, and features a striking glass greenhouse, lined with tomato vines as far as the eye can see. The entire facility houses over 20 acres of tomato vines.
Several dignitaries attended the event, including the governor of Virginia, Terry McAuliffe.
The menu for the ribbon cutting and dedication event was designed around Red Sun Farms' produce, and all menu items featured Red Sun Farms' products: tomatoes, bell peppers, cucumbers and eggplants. The client wanted to showcase its products in unique and creative ways, including an heirloom tomato carving station that instantly grabbed guests' attention.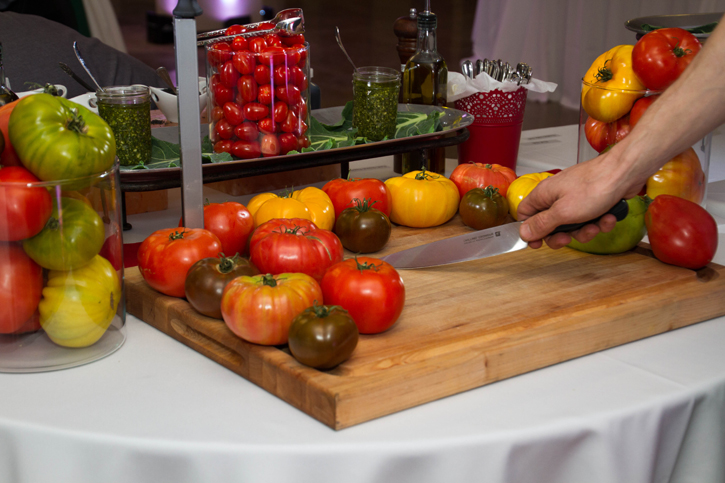 Menu items included:
BLT scallops
Grilled shrimp with tomato brava sauce and garlic aioli
NY strip sliders w/tomato jam & smoked mozzarella
Shallot red pepper tarte tatin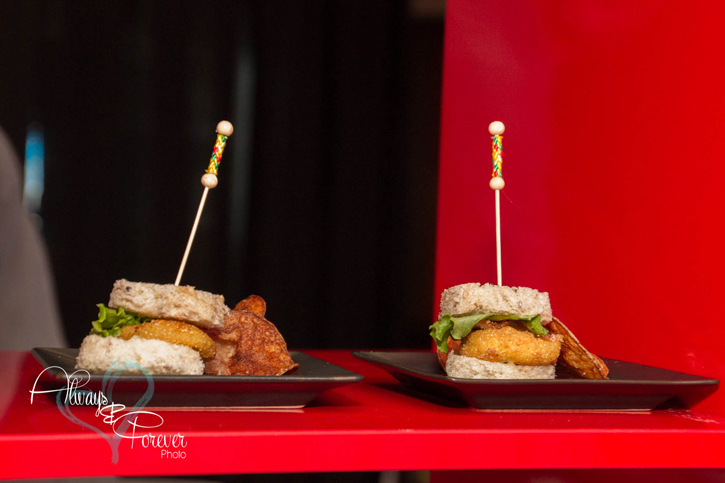 This event's menu  featured traditionally summer menu items. We were able to serve items from a locally-sourced year-round facility on a chilly, November day, and that was exciting for all.  The weather was not perfect for the event—temperatures were well below freezing, winds were high and there were intermittent light showers throughout the day! But the teams of both Blue Ridge Catering and Red Sun Farms as well as all of the event's guests made the most of it.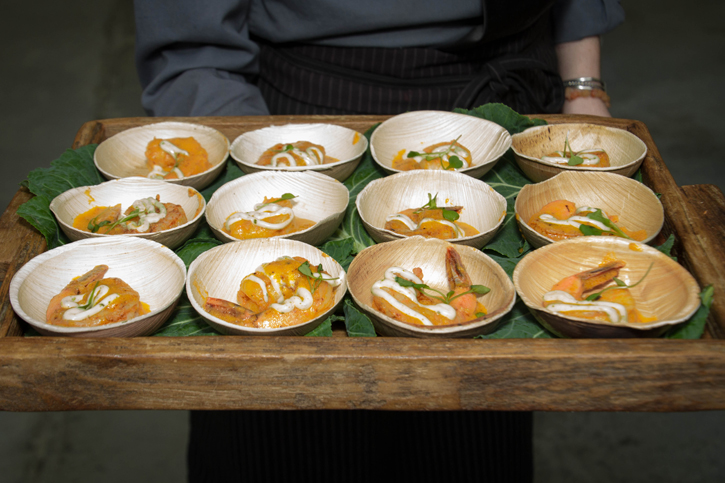 Blue Ridge Catering had to overcome several challenges when attempting to set the scene for this exquisite event. Turning the cafeteria into the perfect, post-ribbon cutting ceremony reception required great attention to detail; including covering the vending machines with pipe and drape, utilizing the skills of Brad Foster with Lighting Ninjas to assist in setting the ambient mood. The client contracted the florals through Northside Flower Shop. The beautiful arrangements incorporated Red Sun's peppers, eggplant and tomatoes to accent the event space.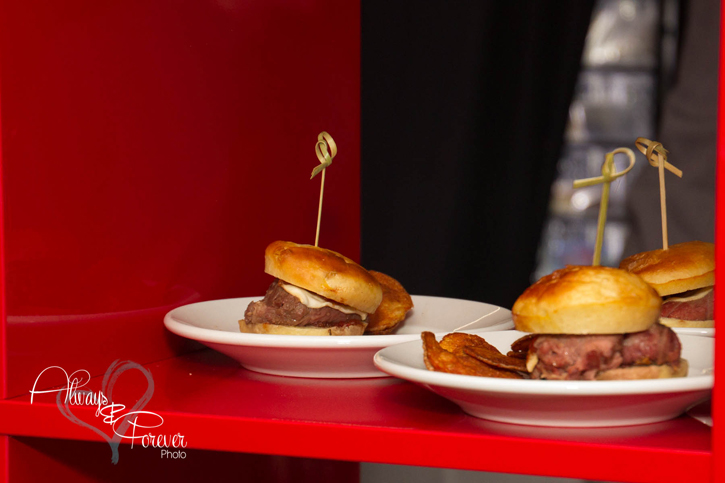 Red Sun Farms was very pleased with the unveiling event, and Blue Ridge Catering was happy to make help make their event a success!